Poori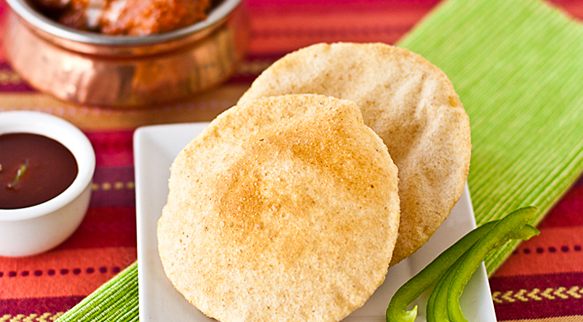 Prep Time: 15 minutes
Cook Time: 15-20 minutes
Serves: 20
No celebration in an Indian home seems complete without pooris. Go ahead, turn a daily meal into a celebration just by adding pooris.
Ingredients:

1 tsp salt
¾ cup water
3½ cups Crisco® Vegetable Oil for rolling and deep frying
Method:

1 Mix flour and salt in a large mixing bowl. Slowly add water. Use hands to bring dough together and knead. Cover dough with a damp cloth and set aside for 10 minutes.
2 Lightly oil rolling pin and work station with 1 tsp (5 ml) of oil. Transfer dough to work station and knead well for about a minute. Divide dough into 18-20 parts. Roll them into balls.
3 Heat oil in a large wok to 350˚F (175˚C).
4 Roll dough balls one at a time covering the remaining with a damp cloth. Gently flatten a dough ball, lightly brush work station with oil to prevent dough from sticking. Use greased rolling pin to roll dough into flat circle about 2½"(about 6 cm) wide.
5 Drop one poori into hot oil for deep frying. Gently press it with a slotted spoon. Poori puffs in 8-10 seconds. Flip and cook other side for 8-10 seconds or until both sides turn golden brown.
6 Serve hot with Aloo Gobhi or Bhindi Masala.
©/TM/® Smucker Foods of Canada Corp.