Naan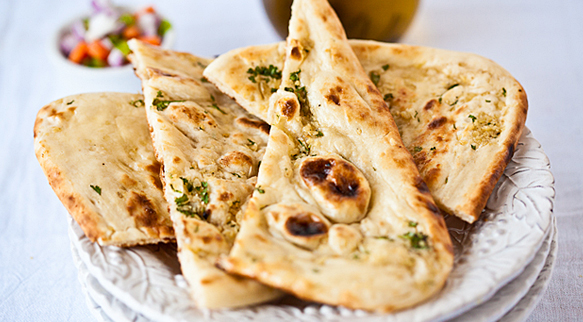 Prep Time: 10 minutes
Cook Time: 20 minutes
Serves: 15
Traditionally, naans are made with all-purpose flour (maida). Substitute it with Golden Temple® No. 1 Fine Durum Atta Flour and you'll wonder why you didn't think of this before.
Ingredients:

2½ cups Golden Temple® No. 1 Fine Durum Atta Flour + extra for dusting
½ tsp baking soda
1 tbsp sugar
1 tsp salt
½ cup plain yogurt
1 cup milk, lukewarm
1½ tsp oil
¼ cup water
2 tbsp butter or ghee (optional)
Method:

1 Combine dry ingredients in a mixing bowl. In a separate bowl, combine milk and yogurt. Slowly add to dry ingredients. Mix with hands to form sticky dough.
2 Place dough in a lightly oiled bowl. Cover with a tight lid and set in a dark, warm place for dough to rise. Rising time greatly depends on the temperature of the environment. At around 70-75°F (158-167°C) dough takes approx. 6-8 hours. Wait for it to rise to almost double its original size with air pockets inside.
3 Dust work station with 3 tbsp (45 mL) flour. Transfer dough to floured surface. Knead it together. Divide into 14-15 parts. Roll into balls.
4 Dust rolling board and dough balls with flour. Use rolling pin to roll dough flat into oval shapes measuring 4" (about 10 cm) long. Brush one side with water.
5 Transfer rolled dough to hot pan, wet side down. Cover with lid. Cook for approximately 20-25 seconds or until bubbles start breaking the surface. Remove from pan and place on open flame. When charred brown spots appear, the naan is ready.
6 Brush butter or ghee (optional) and serve hot with choice of curry.
7 Caution: Cooking on open flame can be potentially dangerous. Maintain a safe distance from the flames while roasting the naan.
©/TM/® Smucker Foods of Canada Corp.