Samosa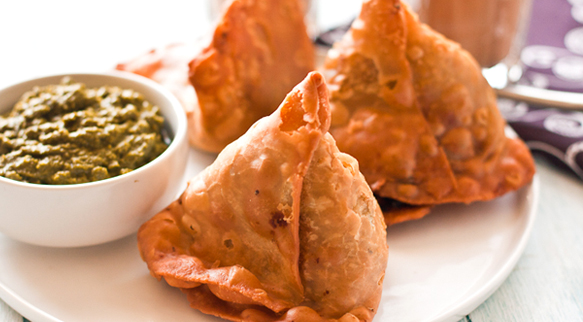 Prep Time: 15-20 minutes
Cook Time: 48-60 minutes
Serves: 16
This snack is as popular as it is versatile. Doubly delicious when paired with hot ginger chai on a cold, rainy day.
Ingredients:

Filling:
2 tbsp Crisco® Vegetable Oil
½ tsp cumin seeds
½ cup onions, chopped
1 tsp Thai green chilies, chopped
½ tsp turmeric
1 tbsp coriander powder
½ tsp garam masala
Salt to taste
½ cup frozen green peas, thawed
1 cup potatoes, boiled, mashed
Pastry:
1 tsp salt
1 tsp ajwain
2 tbsp Crisco® Vegetable Oil
1/3 cup + 1 tbsp water + extra for sealing samosas
4 cups Crisco® Vegetable Oil for deep frying
Method:

1 Heat 2 tbsp (30 mL) oil in a thick bottom pan on medium high heat. Add cumin seeds. As they sputter, add onions. Sauté on medium for 3-5 minutes until translucent.
2 Add green chilies, turmeric, coriander powder, garam masala and salt. Stir. Add green peas. Stir. Cover and cook on medium high for 2-3 minutes. Add potatoes. Mash well.
3 Turn off heat. Let rest until completely cool. Divide filling into 16 parts. Make balls.
4 Combine pastry ingredients, except water, in a large mixing bowl. Mix well. Slowly add water.
5 Knead for 5 minutes to form tough dough. Cover with damp cloth. Set aside for 10 minutes.
6 Knead dough for 1 minute. Divide into 8 parts.
7 Lightly oil rolling board and rolling pin. Roll dough ball into thin circle 3½ -4" (9-10 cm) wide. Occasionally dust dough with flour to prevent sticking. Cut into two semi-circles.
8 Fold into cone. Fill one part of potato filling. Seal edges with water. Pinch to seal well. Repeat for rest of the dough and filling.
9 Heat oil on medium low heat to 300˚F (150˚C).
10 Completely submerge 5-6 samosas in oil. Slowly fry them for 15-18 minutes, turning occasionally until outside is golden. If not golden yet, increase the heat to medium high and cook another 1-2 minutes until golden brown.
11 Serve hot with cilantro and tamarind chutney or tomato ketchup.
©/TM/® Smucker Foods of Canada Corp.