Aloo Matar ke Parathe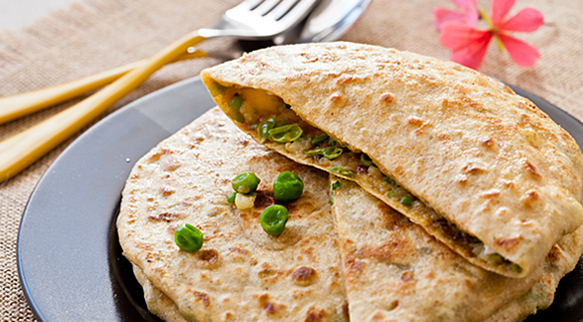 Prep Time: 15 minutes
Cook Time: 25-30minutes
Makes: 15 parathas
Freezing: excellent
Roll it up as part of breakfast-on-the-go or pack a few as part of a satisfying lunch.
Ingredients:

Filling:
2 tbsp (30 mL) Crisco® Vegetable Oil + extra ghee or oil for pan frying
1 tsp (5 mL) cumin seeds
¾ cup (175 mL) red onions, chopped
½ tsp (2 mL) turmeric powder
1 tbsp (15 mL) coriander powder
1 tsp (5 mL) garam masala
1 tsp (5 mL) salt
1 cup (250 mL) frozen green peas, thawed
Paratha:
1½ cups (375 mL) potatoes, boiled and peeled
2½ cups (625 mL) Golden Temple® Durum Atta Flour Blend+ extra for dusting
1½ cups (375 mL) water
Method:

Filling:
Heat oil in a thick bottom pan. Add cumin seeds. As they sputter add onions. Cook on medium high, 5-8 minutes, until translucent.
Add turmeric, coriander powder, garam masala and salt. Stir. Add green peas. Mix well. Cover. Cook on medium low heat, 4-5 minutes, until peas are soft.
Add potatoes. Mash well leaving no big lumps. Turn off heat. Let filling cool completely.
Paratha:
Pour flour in large mixing bowl. Slowly add water to combine with flour. Knead for 8-10 minutes to form soft dough. Cover with damp cloth and set aside for 5 minutes.
Place dough on lightly floured surface. Knead well for 1-2 minutes. Divide into 15 parts.
Divide potato and peas filling into 15 parts.
Dust work station with flour. Roll out one dough ball into a 3" (7.6 cm) circle. Place one portion of filling in the center and pull edges of the disc over the filling. Pinch edges to seal. Gently flatten dough ball between palms. Dust with flour. Roll into flat circle 3-4" (7.6 cm - 10.2 cm) in diameter.
Heat skillet on medium high heat. Place rolled dough onto skillet. Cook for 18-20 seconds or until the dough turns darker and small bubbles break the surface. Flip. Cook for 12-15 seconds. Brush ghee/oil on surface. Flip. Cook for 15-18 seconds or until golden brown spots appear on the surface. Flip. Repeat. Remove from skillet when both sides are cooked.
Serve hot with a side of chutney, pickle or raita.
Tip:

Mashed boiled potato filling with just a few spices like chaat masala, chili powder and chopped cilantro is a great quick option. Refrigerate for up to a week.
©/® Smucker Foods of Canada Corp. or its affiliates.