Methi Paratha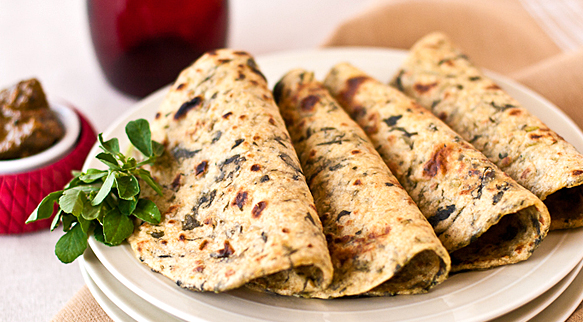 Prep Time: 15 minutes
Cook Time: 25-30 minutes
Makes: 14-16
Freezing: excellent
Simply irresistible. As these parathas are made, the aroma of fenugreek greens and ghee wafts through the kitchen making everyone instantly hungry!
Ingredients:

3 cups (750 mL) Golden Temple® Durum Atta Blend, + extra for dusting
1 cup (250 mL) frozen fenugreek greens, thawed, excess liquid squeezed
1 tsp (5 mL) Thai green chilies, chopped
1 tsp (5 mL) salt or to taste
1 cup + 2 tbsp (280 mL) water
¼ cup (50 mL) Ghee or Crisco® Vegetable Oil for pan frying
Method:

Combine first four ingredients in a bowl. Slowly add water. Bring everything together and knead into smooth dough. Divide dough into 14-16 parts. Roll into balls.
Lightly dust rolling board with flour. Use rolling pin to roll balls into thin circles about 3½" (8-9 cm) wide. Lightly dust dough with flour during rolling to prevent sticking.
Heat skillet on medium high. Place rolled dough onto skillet. Cook for 18-20 seconds or until dough turns darker and small bubbles break the surface. Flip. Cook for 12-15 seconds. Brush ghee/oil on surface. Flip. Cook, gently pressing paratha with the back of spoon. Cook for 15-18 seconds or until golden brown spots appear on surface. Flip. Repeat. Remove from skillet when both sides are cooked.
Remove from heat. Wrap paratha in a clean dry cloth. Place in a wide airtight container.
Serve hot with a side of hot chutney, pickle or raita.
Tip:

Substitute 1½ cups (375 mL) chopped fresh fenugreek leaves for frozen greens for even better taste.
©/® Smucker Foods of Canada Corp. or its affiliates.