Bhakri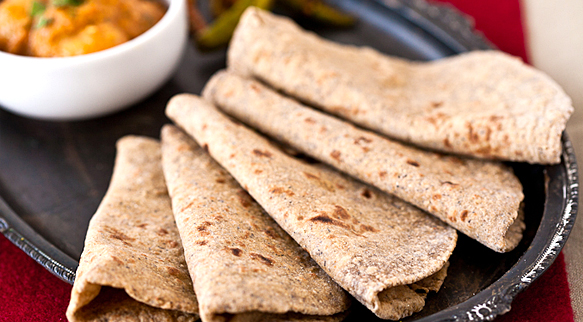 Prep Time: 5-8 minutes
Cook Time: about 15 minutes
Makes: 10-12
Freezing: excellent
Thin and soft or thick and crispy, Bhakri is made with different combinations of flours in various regions of India. No matter what the combination, the results are delicious.
Ingredients:

1½ cups (375 mL) Golden Temple® Durum Atta Flour Blend + extra for dusting
½ cup (125 mL) sorghum flour
½ tsp (2 mL) red chili powder
2 tbsp (30 mL) sesame seeds
1 tsp (5 mL) salt
1 tbsp (15 mL) ghee
¾ cup (175 mL) water
Method:

Mix dry ingredients with ghee in a large bowl. Slowly add water. Use hands to combine and form smooth dough.
Heat tava or heavy bottom skillet over medium high heat.
Lightly dust rolling board with flour. Use rolling pin to roll each ball into circles about 3½" (8-9 cm) wide. Lightly dust dough while rolling to prevent sticking.
Place rolled dough on tava/hot skillet. Cook for about 15-18 seconds, until it starts to change colour and small bubbles break the surface. Use tongs to flip. Cook other side for 12-15 seconds. Flip. Use a muslin cloth to apply gentle pressure while moving it in circular motion, 12-15 seconds. Flip and repeat on other side, 8-10 minutes.
Remove from heat. Wrap in a clean dry cloth. Place in wide container. Serve with ghee and garlic-cilantro chutney.
Tip:

Bhakri stores well and serves as great travel food. Make them thicker and apply ghee as you remove from skillet. Wrap and store.
©/® Smucker Foods of Canada Corp. or its affiliates.