Bhatura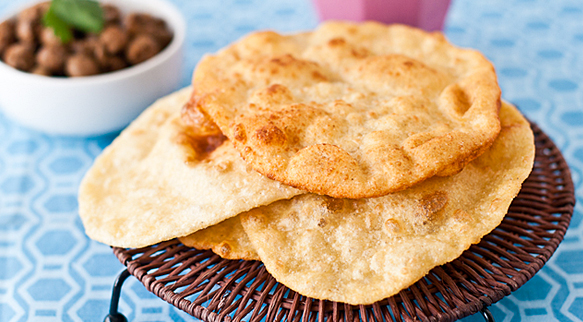 Prep Time: 30 minutes + rising time
Cook Time: 15-20 minutes
Makes: 15
Freezing: not recommended
Average Rating
Be the first to rate this recipe
Crispy on the outside, soft inside. These bhaturas can make you a star at every potluck.
Ingredients:

2 cups (500 mL) Golden Temple® No. 1 Fine Durum Atta Flour + extra for dusting
½ tsp (2 mL) baking soda
1 tbsp (15 mL) sugar
1 tsp (5 mL) salt
¾ cup (250 mL) milk, lukewarm
½ cup (125 mL) plain yogurt
1½ tsp (7 mL) Crisco® Vegetable Oil + 3 cups (750 mL) for deep frying
Method:

Combine dry ingredients together in a mixing bowl. In a separate bowl, combine milk and yogurt. Slowly add to dry ingredients. Mix with hands to form sticky dough.
Oil bowl lightly with 1½ tsp (7 mL) oil. Transfer dough to bowl. Cover with a tight lid and set in a dark, warm place for dough to rise. Rising time greatly depends on the temperature of the environment. At around 70-75°F (158-167°C) dough takes approx. 6-8 hours. Wait for it to rise to almost double its original size with air pockets inside.
Dust work station with 3 tbsp (45 mL) flour. Transfer dough to floured surface. Knead it together. Divide into 14-15 parts. Roll into balls.
Heat oil to 350°F (175°C) in a wok or fryer.
Dust rolling board with flour. Lightly dust dough balls. Use rolling pin to roll dough flat into oval shapes 4" (about 10 cm) long.
Drop one bhatura into hot oil for deep frying. Gently press it down, with slotted spoon. Bhatura puffs in 8-10 seconds. Flip and cook the other side for 8-10 seconds or until both sides turn golden brown.
Strain bhatura. Place on a dish lined with paper towels to absorb extra oil. Serve hot with Pindi Chana.
Tip:

Fry each bhatura as it is being rolled. Dough might get thinner if rolled in advance and can make it difficult to handle.
Heat oven on warm setting for 30 minutes. Turn off. Place covered bowl of dough inside. On cooler days, this warm oven helps dough to rise.
©/® Smucker Foods of Canada Corp. or its affiliates.