Missi Roti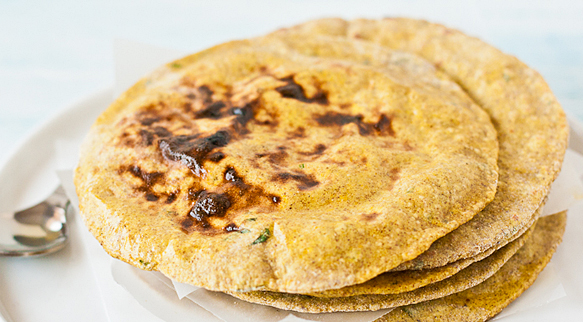 Prep Time: 15 minutes
Cook Time: about 8-10 minutes
Makes: 8-10
Freezing: excellent
Average Rating
Be the first to rate this recipe
Surprise your family with this tasty twist on the plain roti. The dash of spices will make accompanying dishes taste even better!
Ingredients:

1 cup (250 mL) Golden Temple® Durum Atta Flour Blend + extra for dusting
1 cup (250 mL) whole gram flour
¼ cup (50 mL) cilantro, chopped
½ tsp (2 mL) turmeric
½ tsp (2 mL) caraway seeds
½ tsp (2 mL) red chili powder or green chilies, chopped
1 tsp (5 mL) salt
¾ cup (175 mL) water
Method:

Combine dry ingredients in a large mixing bowl. Slowly add water. Use hands to combine. Knead into smooth dough. Divide into 8-10 parts.
Heat a heavy bottom tava, griddle or skillet on medium high heat.
Dust rolling board lightly. Use rolling pin to roll each ball into circles about 3½" (8-9 cm) wide. Lightly dust dough while rolling to prevent sticking.
Place rolled dough on tava/skillet. Cook until it starts to change colour and small bubbles form on surface, about 15-18 seconds. Use tongs to flip. Cook other side for 12-15 seconds. Flip. Use muslin cloth to apply gentle pressure while moving roti in circular motion, 12-15 seconds. Flip and repeat on other side, 5-8 minutes.
Remove from heat. Wrap rotis in a clean dry cloth. Place in a wide container.
Serve with Kashmiri Dum Aloo, Butter Chicken, Mirchi Ka Salan or other curry of your choice.
Tip:

Add some greens like finely chopped fenugreek leaves or spinach for a tasty twist.
©/® Smucker Foods of Canada Corp. or its affiliates.