Palak ki Poori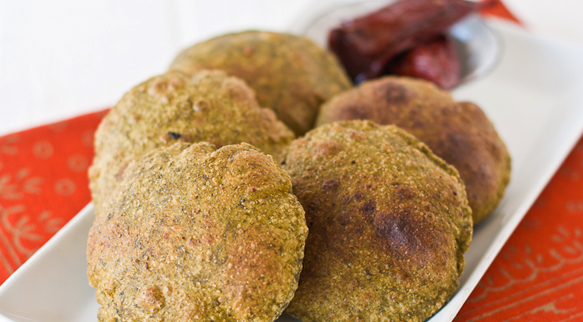 Prep Time: 5-8 minutes
Cook Time: about 6-10 minutes
Makes: 15
Freezing: not recommended
Average Rating
Be the first to rate this recipe
Sneak in some spinach greens and give a healthier, wholesome twist to the much-loved poori.
Ingredients:

1½ cups (375 mL) Golden Temple® Durum Atta Flour Blend + extra for dusting
1 tsp (5 mL) salt
½ tsp (2 mL) caraway seeds
1½ tbsp (22 mL) Crisco® Pure Vegetable Oil + 3 cups (750 mL) for deep frying
½ cup (125 mL) spinach purée
2 tbsp (30 mL) water
Method:

Mix first 3 ingredients in a large mixing bowl. Add 1 ½ tsp oil, spinach purée and water and continue mixing. Knead for 5 minutes to form smooth dough. Divide into 12-15 parts.
Heat oil in a large wok to 350°F (175°C).
Lightly grease rolling board with oil, just enough to prevent the dough from sticking. Use a lightly greased rolling pin to roll dough into a flat circle about 2" (5 cm) wide.
Drop one poori into hot oil for deep frying. Gently press the poori, with slotted spoon. Poori should puff in 8-10 seconds. Flip and cook other side for 8-10 seconds or until both sides turn golden brown.
Serve hot with choice of raita and pickle.
©/® Smucker Foods of Canada Corp. or its affiliates.