Poori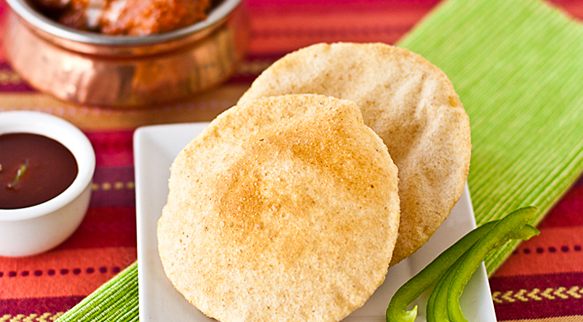 Prep Time: 15 minutes
Cook Time: 15-20 minutes
Makes: 20
Freezing: not recommended
Average Rating
Be the first to rate this recipe
No celebration in an Indian home seems complete without pooris. Go ahead, turn a daily meal into a celebration just by adding pooris.
Method:

Mix flour and salt in a large mixing bowl. Slowly add water. Use hands to bring dough together and knead. Cover dough with a damp cloth and set aside for 10 minutes.
Lightly oil rolling pin and work station with 1 tsp (5 ml) of oil. Transfer dough to work station and knead well for about a minute. Divide dough into 18-20 parts. Roll them into balls.
Heat oil in a large wok to 350˚F (175˚C).
Roll dough balls one at a time covering the remaining with a damp cloth. Gently flatten a dough ball, lightly brush work station with oil to prevent dough from sticking. Use greased rolling pin to roll dough into flat circle about 2½"(about 6 cm) wide.
Drop one poori into hot oil for deep frying. Gently press it with a slotted spoon. Poori puffs in 8-10 seconds. Flip and cook other side for 8-10 seconds or until both sides turn golden brown.
Serve hot with Aloo Gobhi or Bhindi Masala.
Tip:

Poori dough is tougher than roti or paratha dough. Poori made with tougher dough is easier to roll and puffs better. Using oil to roll dough leaves cooking oil cleaner. Adjust the amount of water used if using a different variety of flour.
©/® Smucker Foods of Canada Corp. or its affiliates.