Puran Poli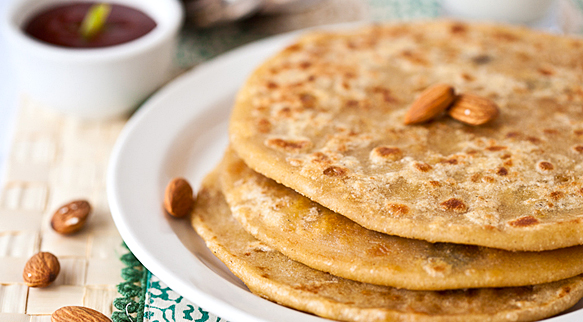 Prep Time: 30 minutes
Cook Time: 40-50 minutes
Makes: 18-20
Freezing: excellent
A classic dish from Maharashtra, Puran Poli marks celebrations and festivities. With just the right amount of sweetness, it can be a snack as well as dessert.
Ingredients:

Filling:
1 cup (250 mL) split Bengal gram (chana dal)
5½ cups (1375 mL) water, divided
1½ tbsp (22 mL) Ghee or Crisco® Vegetable Oil + extra for pan frying
¼ cup (50 mL) golden raisins
½ tsp (2 mL) cardamom powder
1 cup (250 mL) jaggery, powdered
Poli:
2½ cups (625 mL) Golden Temple® Durum Atta Flour Blend + extra for dusting
Method:

Filling:
Soak chana dal in 2 cups (500 mL) water for 1 hour. Drain and rinse. Transfer into a pressure cooker. Add 2 cups (500 mL) of water. Pressure cook for 10 minutes or until chana dal is cooked through. Set aside 15 minutes until pressure is released. Use masher or back of spoon to mash chana dal.
Heat ghee/oil in a pan. Add raisins. Fry till they puff, about 30-40 seconds. Add cooked chana dal, jaggery and cardamom powder. Cook mixture for about 5 minutes on medium stirring continuously until jaggery dissolves and mixture thickens into a dense mass. Turn off heat. Set aside to cool completely. Divide into 18-20 parts.
Poli:
Slowly add 1½ cups (325 mL) water to combine with flour in a large mixing bowl. Knead for 8-10 minutes to form soft dough.
Cover with damp cloth and set aside 5 minutes.
Divide dough into 18-20 parts. Roll each part into a ball.
Dust rolling board with flour. Roll out dough ball into a circle 3" (7.6 cm) wide. Place one portion of filling in the center and pull edges of disc over filling. Pinch edges to seal. Gently flatten dough ball between palms. Dust with flour to prevent sticking. Roll into flat circle 3-4" (7.6-10.2 cm) wide.
Heat skillet on medium high. Place rolled dough onto skillet. Cook for 18-20 seconds or until the dough turns darker and small bubbles break the surface. Flip. Cook for 12-15 seconds. Brush ghee/oil on surface. Flip. Gently pressing the poli with the back of spatula. Cook for 15-18 seconds or until golden brown spots appear on surface. Flip. Repeat. Remove from skillet when both sides are cooked.
Serve hot with a glass of milk.
Tip:

Add choice of silvered nuts or dried fruits for added flavour.
©/® Smucker Foods of Canada Corp. or its affiliates.