Chicken 65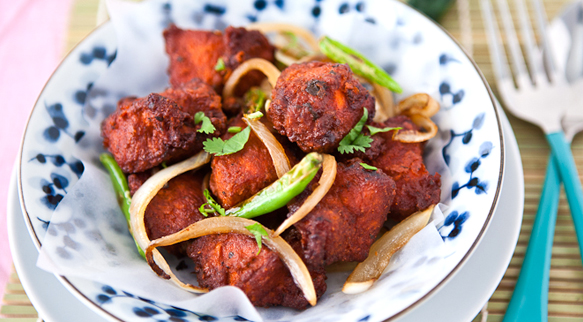 Prep Time: 5 minutes + 1 hr for marinating
Cook Time: 15-20 minutes
Serves: 4
Freezing: not recommended
At a party you host or at a pot-luck, this finger-licking delicious dish will have everyone asking for the recipe.
Ingredients:

Marinade:
1 lb (454 grams) chicken, boneless, skinless, cut into bite size pieces
2 tsp (10 mL) fresh ginger garlic paste
½ tsp (2 mL) cumin powder
1 tbsp (15 mL) coriander powder
1 tsp (5 mL) Kashmiri lal mirch
1 tsp (5 mL) salt
2 tbsp (30 mL) cornstarch
2 large eggs, beaten
2 drops red food colour
Stir Fry:
4 cups (1 L) + 2 tbsp (30 mL) Crisco® Vegetable Oil
¼ cup (50 mL) curry leaves, chopped
4-5 green chilies, slit
1 cup (250 mL) onions, thinly sliced
Method:

Mix marinade ingredients in a large mixing bowl. Marinate for 1 hour.
Heat 4 cups (1 L) oil in large pot to about 350°F (175°C).
Carefully drop 7-8 chicken pieces in hot oil. Cook 3-5 minutes, or until chicken is no longer pink inside.
Remove from oil. Drain excess oil on paper towel. Repeat for rest of the chicken.
Heat 2 tbsp (30 mL) oil in a thick bottom pan on medium high heat.
Add curry leaves and green chilies. As they stop sputtering add onions. Sauté for 8-10 minutes until golden.
Add cooked chicken. Toss to mix together.
Turn off heat.
Serve hot as an appetizer.
©/® Smucker Foods of Canada Corp. or its affiliates.