Garlic Chicken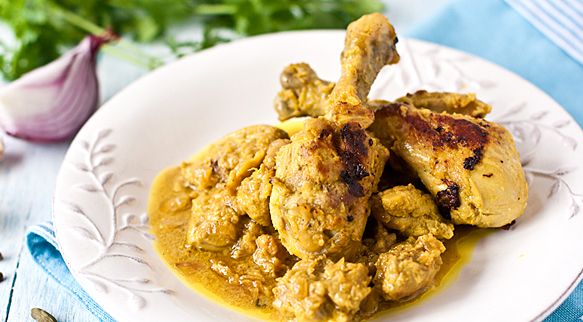 Prep Time: 10 minutes + 1 hr marinating
Cook Time: 30 minutes
Serves: 4-6
Freezing: Excellent
Don't let the ease and simplicity of this dish fool you. It tastes as delicious as it is easy to make!
Ingredients:

Marinade:
13 garlic cloves
2-3 Thai green chilies (adjust according to taste)
1" (2.5 cm) ginger root
¼ cup (50 mL) yogurt
½ tbsp (7 mL) lemon juice
1 lb (454 grams) chicken, any part, bone in, patted dry
Garlic Chicken:
4 garlic cloves, smashed
6 cloves (laung) whole
3 green cardamoms, whole
3 tbsp (45 mL) olive oil
1½ cups (375 mL) onions, chopped
½ tsp (2 mL) turmeric powder
Method:

Grind first three ingredients into a paste. Whisk in remaining ingredients. Add chicken. Turn to coat. Marinate for 1 hour.
Place remaining 4 cloves of garlic, cloves and cardamom into a cold pan. Add olive oil and turn heat to medium high. When garlic starts to turn golden add onions and turmeric. Sauté for about 10 minutes on medium high until golden.
Add chicken. Stir to mix well. Cover and cook for 10 minutes on medium high. Chicken will lose a lot of liquid during this time.
Add salt when chicken is cooked half way through. Stir. Continue cooking for 10 minutes until cooked through and gravy is thick. If gravy is too thin turn up heat and cook for 3-5 minutes.
Turn off heat. Cover and let stand for 10 minutes. Serve hot with naan, roti or lachcha paratha.
Tip:

Layer this dish with half cooked rice. Slow cook for 15 minutes in a tightly sealed container to make delicious Garlic Chicken Biryani.
©/® Smucker Foods of Canada Corp. or its affiliates.