Tandoori Chicken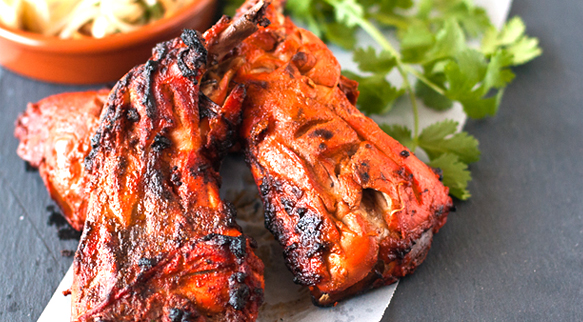 Prep Time: 10-15 minutes + at least 1 hr for marinating
Cook Time: 30-35 minutes
Serves: 4
Freezing: excellent
Whether you have friends over for a barbeque or are preparing appetizers for a get-together indoors, this recipe is sure to be a hit.
Ingredients:

2½ tbsp (37 mL) coriander powder
1½ tsp (7 mL) kashmiri lal mirch powder
1½ tsp (7 mL) cumin powder
1¼ tsp (6 mL) garam masala
1 tsp (5 mL) salt
1 drop red food colouring (optional)
¼ cup (50 mL) lemon juice
¼ cup (50 mL) plain yogurt
2 tbsp (30 mL) olive oil
1 tbsp (15 mL) ginger garlic paste
4 pieces chicken legs, skinless, bone-in, with drumsticks and thighs attached (about 2 lbs/1 kg)
Method:

Mix all the ingredients, except chicken, in a large, wide mixing bowl.
Make deep 2-3" (5-7.6 cm) long deep cuts on chicken pieces. Mix well with marinade. Marinate for at least 1 hour or overnight.
Preheat oven to 375˚F (190˚C).
Place a cooling rack over baking sheet and put chicken on the rack. Bake for 30-35 minutes until chicken is cooked through and skin is slightly charred.
Remove from oven.
Serve hot with a side of onion and cabbage salad and cilantro chutney.
Tip:

Traditionally tandoori chicken is cooked in a tandoor, an open clay oven. It is also great for grilling.
©/® Smucker Foods of Canada Corp. or its affiliates.