Fish Orly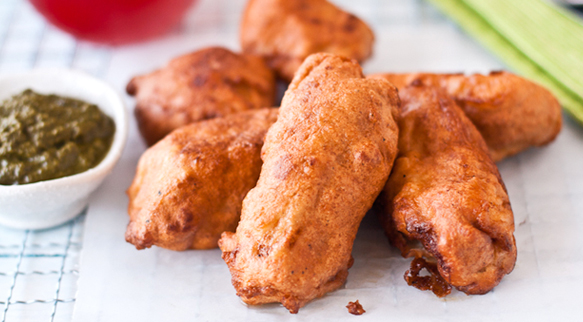 Prep Time: 30 minutes
Cook Time: 8-10 minutes
Serves: 3-4
Freezing: not recommended
Average Rating
Be the first to rate this recipe
Add fried potatoes on the side with Fish Orly and you've got India's version of Fish and Chips.
Ingredients:

Marinade:
1½ tbsp (22 mL) lemon juice
½ tsp (2 mL) salt
½ tsp (2 mL) ground black pepper
1 tsp (5 mL) garlic paste
1 lb (454 grams) fish fillets (angler, cod or sole), cut into ½" (1.3 cm) wide strips
Batter:
½ cup (125 mL) Golden Temple® No. 1 Fine Durum Atta Flour
Salt to taste
Ground black pepper to taste
2 large eggs, beaten
2 tbsp (30 mL) water
3 cups (750 mL) Crisco® Vegetable Oil for deep frying
Method:

Mix first four ingredients. Add fish to marinade and mix to coat. Set aside for 30 minutes.
Heat oil in a wok or fryer up to 350˚F (175˚C).
Mix flour, salt and black pepper in a separate bowl. Add eggs and water and mix well.
Dip fish fillets in batter. Carefully drop into hot oil. Fry until golden brown, 3-5 minutes.
Serve hot alone or with choice of chutney.
©/® Smucker Foods of Canada Corp. or its affiliates.