Macher Jhol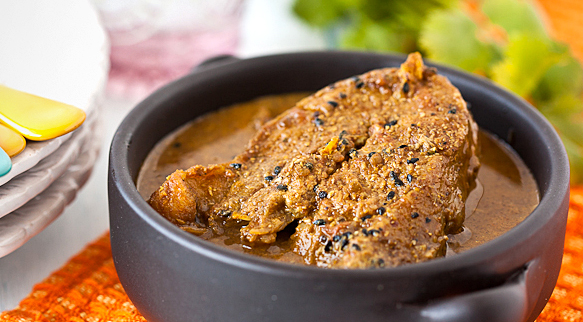 Prep Time: 45 minutes
Cook Time: 25-30 minutes
Serves: 6
Freezing: excellent
Average Rating
Be the first to rate this recipe
A Sunday lunch staple in Bengali homes. Try it and it may become a weekend family tradition!
Ingredients:

Marinade:
1½ lbs (680 g) white fish steaks or fillets
1½ tsp (7 mL) turmeric
1½ tsp (7 mL) salt
Curry:
5 tbsp (75 mL) mustard oil, divided
1 tsp (5 mL) nigella
3 green Thai Chilies, slit
2 medium sized tomatoes, peeled, chopped
1½ tbsp (22 mL) coriander powder
1 tsp (5 mL) cumin powder
1½ tbsp (22 mL) ginger paste
Salt to taste
1½ cups (375 mL) water
3 tbsp (45 mL) cilantro, chopped
Method:

Pat fish dry and place in shallow dish. Sprinkle both side with turmeric and salt. Set aside for 30 minutes.
Heat 3 tbsp (45 mL) oil in a heavy bottom frying pan on medium high until smoky. Carefully fry fish on both sides until golden. Remove from pan to dish lined with paper towel to absorb excess oil.
Add remaining oil to hot pan. Add nigella and green chilies. As they sizzle, add tomatoes. Reduce heat to medium. Stir. Simmer for 3-5 minutes or until tomato turns to a loose paste.
Add coriander powder, cumin and ginger paste. Stir. Cook for 1 minute. Add salt and water. Increase heat to medium high and bring to boil.
Reduce heat to medium low. Place fish in pan and simmer 4-5 minutes.
Turn off heat. Garnish with cilantro. Let stand for 5 minutes.
Serve hot with steamed rice.
Tip:

Traditionally Macher Jhol is made with rohu. Carp, bass, tilapia and trout are good alternatives.
©/® Smucker Foods of Canada Corp. or its affiliates.