Gosht Shorba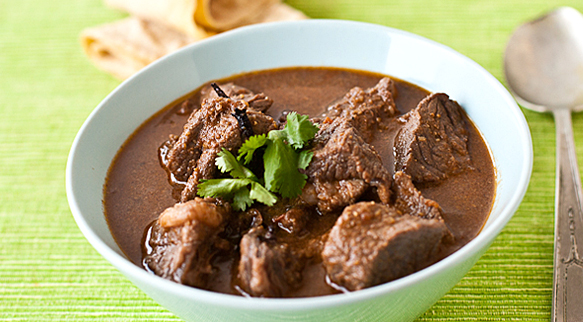 Prep Time: 15 minutes
Cook Time: 50-60 minutes
Serves: 4-6
Freezing: excellent
Average Rating
Be the first to rate this recipe
Roti dipped in steaming Gosht Shorba—a great way to enjoy a warm family meal on a cold wintry evening.
Ingredients:

3 tbsp (45 mL) mustard oil or Crisco® Vegetable Oil
3 bay leaves
2-3 dry red chilies, whole
1 cinnamon stick
3 black cardamoms, crushed
1 tsp (5 mL) cloves
4 green cardamoms, crushed
1 tsp (5 mL) black peppercorn, crushed
2 garlic cloves, smashed
1 cup (250 mL) onions, chopped
1 tbsp (15 mL) ginger garlic paste
1 tsp (5 mL) turmeric
2 tbsp (30 mL) coriander powder
Salt to taste
1¾ cups (425 mL) water, divided
1½ cups (375 mL) tomatoes, chopped
1 tsp (5 mL) garam masala
1½ lbs (680 grams) lamb, boneless leg cut into 1 ½" (3.8 cm) pieces
¼ cup (50 mL) cilantro, chopped
Method:

Heat oil in a heavy bottom pan. Add bay leaves, red chilies, cinnamon stick, black cardamoms, cloves, green cardamom and peppercorn. Stir. Add smashed garlic. Cook for about 30 seconds on medium heat until garlic turns golden brown.
Add onions. Sauté for 2-3 minutes until translucent.
Add ginger-garlic paste. Sauté for another minute. Add turmeric, coriander powder and salt. Cook for 15 seconds. Add ¼ cup (50 mL) water. Simmer on medium heat for 30 seconds stirring continuously.
Stir in tomatoes. Turn heat to medium low. Simmer for 2-3 minutes until tomatoes begin to melt. Add garam masala. Stir, scraping the bottom and sides. Continue cooking for 5 minutes until mixture turns into loose paste.
Turn heat to medium high. Add lamb. Stir well. Cook for 10 minutes, stirring every 2-3 minutes. Turn heat to medium low. Cover and cook for 10 minutes.
Uncover. Stir well scraping the sides. Add 1½ cups (375 mL) of water. Mix well. Cover and simmer for 15-18 minutes or until the lamb is cooked through, stirring occasionally.
Turn off heat. Add cilantro. Cover, let rest for 5-10 minutes.
Serve hot with roti or steamed rice.
Tip:

A pressure cooker can speed up the cooking process. Pressure-cook meat for 10-12 minutes.
©/® Smucker Foods of Canada Corp. or its affiliates.