Lamb Kofta Curry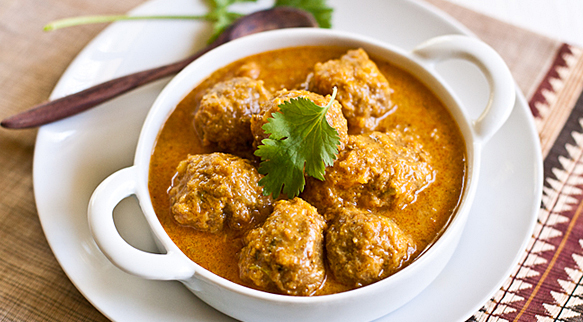 Prep Time: 10 minutes + 1 hr. for marinating
Cook Time: 45-55 minutes
Serves: 4-6
Freezing: excellent
Meatballs and sauce have always been a symbol of comfort food. This Indian version packs the same comfort with a mildly spiced curry.
Ingredients:

Marinade:
½ lb (227 grams) ground lamb
½ cup (125 mL) mashed potatoes
1 tsp (5 mL) ginger garlic paste
1 tsp (5 mL) Thai green chilies, chopped
¼ cup (50 mL) cilantro, chopped
Salt to taste
Curry:
4 tbsp (50 mL) Crisco® Vegetable Oil
1 cup (250 mL) fresh onion paste
1 tbsp (15 mL) ginger garlic paste
1½ cups (325 mL) tomatoes, peeled, chopped
1 tsp (5 mL) ground cumin
1 tsp (5 mL) turmeric
1 tsp (5 mL) Kashmiri lal mirch
1½ tbsp (22 mL) coriander powder
1½ tsp (7 mL) garam masala
Salt to taste
¼ cup (50 mL) cashews, blanched in ½ cup (125 mL) water, ground to paste
¼ cup (50 mL) heavy cream
1½ cups (325 mL) water
Method:

Mix marinade ingredients in a bowl. Use hands to blend everything well together. Cover. Marinate in refrigerator for at least 1 hour.
Preheat oven to 350°F (175°C).
Place meatballs on a foil lined baking sheet. Bake for 15-20 minutes until nearly cooked.
Heat oil in a thick bottom pan at medium high heat. Add onion paste. Sauté for 8-10 minutes until golden.
Add ginger garlic paste. Stir. Cook for 20-30 seconds. Add tomatoes. Stir. Cook for 8-10 minutes until reduced to a loose paste.
Add ground cumin, turmeric, Kashmiri lal mirch, coriander powder and garam masala. Stir to mix well.
Add cashew paste. Stir. Add heavy cream. Stir. Add salt. Stir in water.
Simmer at medium heat until gravy comes to a boil, about 5 minutes.
Add meatballs. Stir. Cover. Simmer at medium low for 5 minutes until meatballs are cooked.
Uncover. Continue simmering for 1-2 minutes.
Turn off heat. Serve hot with steamed rice or naan.
Tip:

Substitute potatoes with cooked white rice to mix with meatballs. It helps keep the meatballs soft.
©/® Smucker Foods of Canada Corp. or its affiliates.