Lamb Saag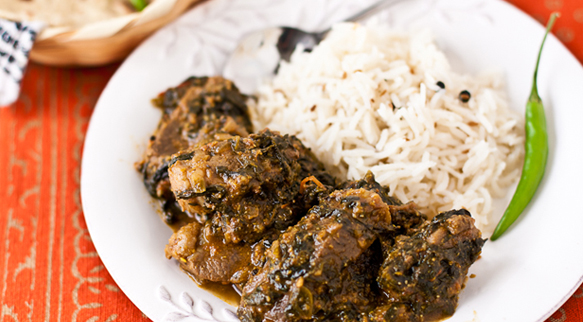 Prep Time: 10 minutes
Cook Time: 40-45 minutes
Serves: 3-4
Freezing: excellent
Average Rating
Be the first to rate this recipe
This combination of spinach, lamb and spices is simply irresistible!
Ingredients:

3 tbsp (45 mL) mustard oil
6-7 cloves, coarsely crushed
3-4 black cardamom, coarsely crushed
3-4 green cardamom, coarsely crushed
½ cinnamon stick, coarsely crushed
½ tsp (2 mL) cumin seeds
½ cup (125 mL) onions, chopped
1 tbsp (15 mL) ginger garlic paste
½ tsp (2 mL) turmeric
1½ tbsp (22 mL) coriander powder
1 tsp (5 mL) garam masala
Salt to taste
1¼ cups (300 mL) tomatoes, chopped
1 lb (454 grams) leg of lamb, boneless, cut into 1" (2.5 cm) chunks
3 cups (750 mL) fresh spinach, coarsely chopped
Method:

Heat oil in thick bottom pan on medium high heat. Add cloves, black cardamom, green cardamom, cinnamon and cumin. As they sputter add onions.
Sauté for 3-5 minutes on medium heat until golden. Add ginger garlic paste. Sauté for 20-30 seconds.
Add turmeric, coriander, garam masala and salt. Stir.
Add tomatoes. Stir. Cook for 8-10 minutes on medium high heat or until mixture reduces to a loose paste.
Add lamb. Stir. Cook for 10 minutes stirring occasionally scraping the sides and bottom.
Add spinach. Mix well. Cover. Cook for 10 minutes on medium heat.
Uncover. Stir well. Continue cooking for 8-10 minutes until lamb is fully cooked.
©/® Smucker Foods of Canada Corp. or its affiliates.