Seekh Kabab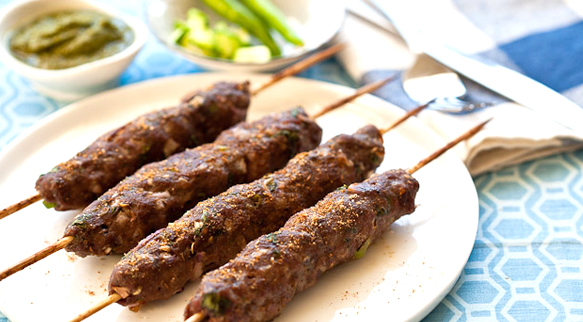 Prep Time: 5 minutes + 1 hr for marinating
Cook Time: 15 minutes
Serves: 8-10
Freezing: not recommended
Average Rating
Be the first to rate this recipe
Always a hit at summer barbeques. In cooler weather, just use the oven and it still works its magic!
Ingredients:

1 lb (454 grams) ground lamb
½ cup (125 mL) onions
2 tsp (10 mL) Thai green chilies, chopped
½ cup (125 mL) cilantro, chopped
3 tbsp (45 mL) chickpea flour
1 tsp (5 mL) cumin seeds
1 tsp (5 mL) coriander seeds, coarsely crushed
½ tsp (2 mL) garam masala
½ tsp (2 mL) dry mango powder
2 tbsp (30 mL) butter for basting
Method:

Mix ingredients together in a bowl. Divide into 8-10 parts. Cover. Set aside for 1 hour to marinate.
Soak 8-10 bamboo skewers in water for 30 minutes. Drain water.
Pack a layer of lamb mixture with wet hands on to the length of skewers leaving about an inch on each end.
Preheat grill to medium high heat or oven to 450°F (230°C).
Grill until done, 5-8 minutes basting in between.
Place kababs on a baking sheet lined with foil, if cooking in the oven. Bake for 5 minutes, baste with butter and continue baking for 3-5 minutes until done.
Serve hot with mint cilantro chutney and side of cucumber raita.
Tip:

If grinding your own meat at home do not discard fat. Fat in the meat makes kabab moist. Add about ¼ cup (50 mL) fat if using lean meat.
©/® Smucker Foods of Canada Corp. or its affiliates.