Pork Vindaloo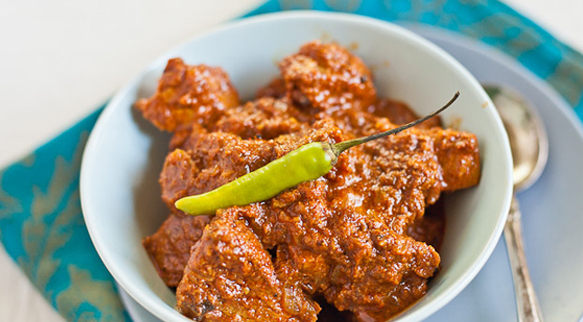 Prep Time: 10 minutes + 1 hr for marinating
Cook Time: 35-45 minutes
Serves: 3-4
Freezing: excellent
Average Rating
Be the first to rate this recipe
A blend of spices makes this dish not-so-hot, not-so-mild. Just perfect with a steaming bed of rice.
Ingredients:

Marinade:
1 ½ tbsp (22 mL) fresh ginger garlic paste
2 tsp (10 mL) Kashmiri lal mirch
¼ cup (50 mL) white wine vinegar
1 lb (454 grams) pork tenderloin, cut into 1"(2.5 cm) pieces
Curry:
3 tbsp (45 mL) olive oil
¾ cup (175 mL) onions, chopped
½ tsp (2 mL) black pepper
½ tsp (2 mL) cumin powder
½ tsp (2 mL) cinnamon powder
¼ tsp (1 mL) ground cloves
½ tsp (2 mL) turmeric
Salt to taste
1 cup (250 mL) water
Method:

Mix marinade ingredients together. Cover. Marinate for at least 1 hour.
Heat oil in a thick bottom pan on medium high heat. Add onions. Sauté for 5-8 minutes until golden.
Add marinated pork. Stir. Cook for 5 minutes on medium high heat, stirring occasionally.
Add black pepper, cumin, cinnamon, cloves and turmeric. Stir. Add salt and water. Stir well.
Cover. Simmer for 15- 20 minutes on medium low heat.
Uncover. Stir. Continue cooking for 5-10 minutes until pork is cooked through.
Turn off heat.
Serve hot over bed of steamed rice.
Tip:

Soak whole dry Kashmiri lal mirch in vinegar for 30-45 minutes. Grind. Use as a marinade for pork for smoky flavour.
Use ½ tsp (2 mL) each of ginger garlic powder as a substitute for fresh paste.
©/® Smucker Foods of Canada Corp. or its affiliates.