Matar Paneer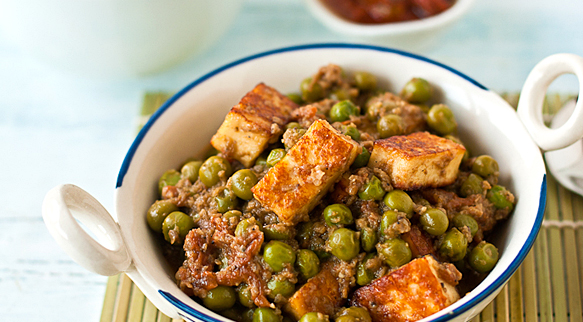 Prep Time: 10 minutes
Cook Time: about 30 minutes
Serves: 6
Freezing: excellent
Re-create the taste of those wildly popular dhaabas with this dish. Serve it up with hot butter naan and feel like you're in one!
Ingredients:

3 tbsp (45 mL) Crisco® Vegetable Oil
1 tbsp (15 mL) ginger garlic paste
¾ cup (175 mL) fresh onion paste
½ tsp (2 mL) turmeric
1½ tbsp (22 mL) coriander powder
1½ tsp (7 mL) garam masala
1 tsp (5 mL) cayenne pepper
1½ cups (375 mL) tomatoes, peeled, pureed
2½ cups (625 mL) frozen green peas, thawed
1 cup (250 mL) water
Salt to taste
2 tbsp (30 mL) heavy cream
8 oz (225 grams) paneer, cubed, pan fried till golden
Method:

Heat oil in a thick bottom, large pan over medium high heat. Add ginger garlic paste. Cook for 30-40 seconds. Add onion paste. Cook on medium heat for 8-10 minutes until it begins to brown and turns into a loose paste.
Add turmeric, coriander, garam masala and cayenne pepper. Stir. Add tomatoes. Cook on medium high heat for 8-10 minutes until it forms a loose paste with no extra liquid.
Add peas. Mix well. Cover and cook on medium heat for 5 minutes. Add water. Stir. Continue cooking for 3-5 minutes. Add heavy cream and paneer. Stir well. Cook uncovered for 2-3 minutes.
Turn off heat. Serve hot with naan, lachcha paratha, poori or rice.
©/® Smucker Foods of Canada Corp. or its affiliates.