Palak Paneer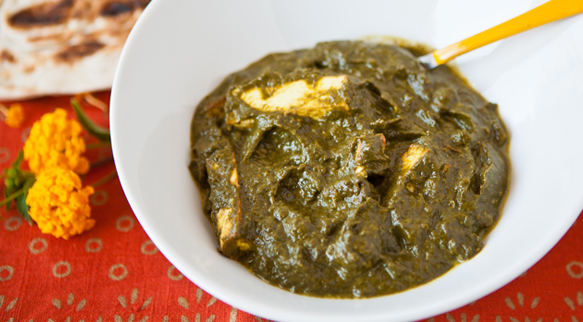 Prep Time: 10-15 minutes
Cook Time: about 30-35 minutes
Serves: 6
Freezing: excellent
This combination of spinach and paneer makes many forget that they don't like greens. Even kids love this dish…and that says a lot!
Ingredients:

3 tbsp (45 mL) Crisco® Vegetable Oil
1½ tbsp (22 mL) ginger garlic paste
1 cup (250 mL) fresh onion paste
½ tsp (2 mL) turmeric
1½ tbsp (22 mL) coriander powder
1½ tsp (7 mL) garam masala
1 tsp (5 mL) cayenne pepper
1½ cups (375 mL) tomatoes, peeled, puréed
½ cup (125 mL) water
1 lb (454 grams) fresh spinach blanched, puréed
¼ cup (50 mL) heavy cream
Salt to taste
8 oz (225 grams) paneer, cubed
Method:

Heat oil in a thick bottom, large pan over medium high heat. Add ginger garlic paste. Cook for 30-40 seconds. Add onion paste. Cook on medium heat for 8-10 minutes until brown and it turns into a loose paste.
Add turmeric, coriander, garam masala and cayenne pepper. Stir. Add tomatoes. Cook on medium high heat for 8-10 minutes until everything comes together to a loose paste with no extra liquid.
Add water and spinach. Cook for 5-8 minutes on medium heat. Add heavy cream. Cook for 3-5 minutes. Add paneer cubes. Mix well. Simmer for 5 minutes on medium low heat.
Tip:

For extra flavour, add 4-5 cloves and 1 tsp (5 mL) fennel seeds while puréeing spinach. Substituting heavy cream with sour cream is also a tasty alternative.
©/® Smucker Foods of Canada Corp. or its affiliates.