Aloo Gobhi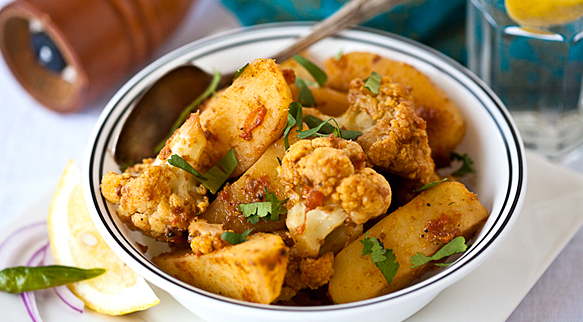 Prep Time: 15 minutes
Cook Time: 30-35 minutes
Serves: 6
Freezing: excellent
Every Indian family has its own version of this popular dish. No matter what the variation, it's one easy way to make kids love vegetables.
Ingredients:

2½ tbsp (37 mL) Crisco® Vegetable Oil
1 pinch asafetida
½ tsp (2 mL) cumin seeds
½ cup (125 mL) red onions, chopped
1 tbsp (15 mL) ginger garlic paste
½ tsp (2 mL) turmeric
1½ tbsp (22 mL) coriander powder
Salt to taste
1 tsp (5 mL) garam masala
2 tbsp (30mL) water
1 lb (450 grams) cauliflower, washed and cut into 2" (5 cm) chunks
10 oz (285 grams) potatoes, peeled, washed and cut into 1½" (3.75 cm) pieces
2 tbsp (30 mL) cilantro, chopped
Method:

Heat oil in a thick bottom pan. Add asafetida and cumin seeds. As they sputter add onions. Sauté on medium heat until golden brown, 3-5 minutes.
Add ginger garlic paste. Sauté for another minute. Add turmeric, coriander powder, salt and garam masala. Stir. Add water. Mix. Turn heat to medium low. Let simmer for 1 minute.
Add cauliflower and potatoes. Stir and toss everything together. Cover and cook on medium heat for 15 minutes, stirring occasionally.
Uncover and continue cooking for another 8-10 minutes scraping the bottom and sides until vegetables are cooked through.
Turn off heat. Garnish with cilantro and serve hot with roti and a side of dal.
Tip:

Soak cut potatoes and cauliflower in lukewarm water to prevent them from browning.
©/® Smucker Foods of Canada Corp. or its affiliates.