Aloo Methi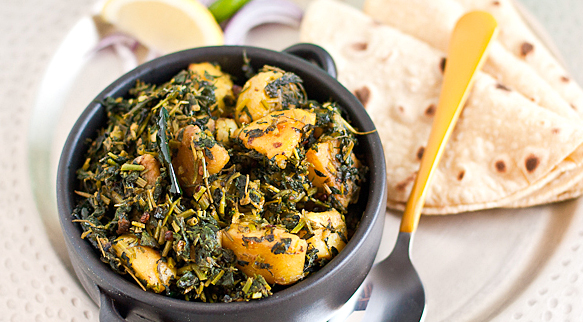 Prep Time: 5 minutes
Cook Time: 30-35 minutes
Serves: 6-8
Freezing: excellent
This combination of potatoes and tender fenugreek greens is just like a pair of siblings. Different, but perfect together!
Ingredients:

3 tbsp (45 mL) Crisco® Vegetable Oil
1 tsp (5 mL) fenugreek seeds
2 dry red chilies, whole
1½ tsp (7 mL) garlic, minced
1 tsp (5 mL) turmeric powder
4 medium (1½ lbs/680 grams) potatoes, peeled and cut into 1" (2.5 cm) pieces
2 cups (500 mL) frozen fenugreek leaves, thawed, excess liquid squeezed
Salt to taste
Method:

Heat oil in a thick bottom pan with wide opening. Add fenugreek seeds, dry red chilies and garlic. As they sizzle and garlic turns golden brown, add turmeric. Stir.
Add potatoes. Stir to coat potatoes with oil. Cover with lid.
Cook covered on medium heat for 6-8 minutes, stirring occasionally until sides turn golden brown.
Add fenugreek leaves. Stir well and cover. Cook for 10 more minutes.
Uncover. Add salt. Cook for 8-10 minutes on medium, stirring every 2-3 minutes or until potatoes are cooked through.
Tip:

To make it a richer dish, cook potatoes and fenugreek greens in a spicy curry paste. Add some cream for a royal touch.
©/® Smucker Foods of Canada Corp. or its affiliates.