Baigan Bharta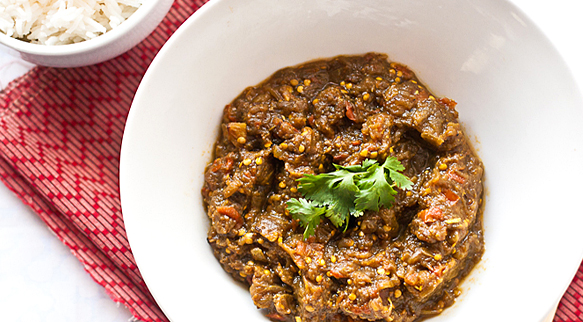 Prep Time: 20 minutes
Cook Time: 3½-4 hours
Serves: 6
Freezing: excellent
Average Rating
Be the first to rate this recipe
Chargrilled eggplants bring a smoky intensity to this dish. Mild spices make it delicious.
Ingredients:

2 medium sized eggplants (approx. 2 lbs/908 grams total in weight)
3-4 cloves of garlic
2-3 Thai green chilies (adjust according to taste), chopped
4 tbsp (60 mL) Crisco® Vegetable Oil
1 pinch asafetida
1 tsp (5 mL) cumin seeds
½ cup (125 mL) red onions, chopped
1 tsp (5 mL) turmeric
1½ tbsp (22 mL) coriander powder
1½ tsp (7 mL) garam masala
Salt to taste
1½ cups (375 mL) tomatoes, chopped
¼ cup (50 mL) water
¼ cup (50 mL) cilantro, chopped
Method:

Preheat oven to 400°F (205°C).
Make shallow slits on the eggplants. Press whole garlic cloves and chilies in the cuts. Wrap eggplants individually with aluminum foil. Place on lower rack of oven. Bake for 3-3½ hours until fully cooked.
Pull out eggplants. Remove from foil, let cool for 10 minutes. Use tongs to lift eggplant. Drain any liquid dripping out.
Place roti roasting rack on direct flame of a stove. Place eggplants on top and roast for 5-8 minutes each side, until skin is charred. Use tongs to flip.
Wrap in foil. Cool for 10 minutes. Peel skin and head off. Set aside.
Heat oil in a thick bottom pan over medium high heat. Add cumin seeds. As they sputter, add onions. Sauté for 3-5 minutes, until soft and golden.
Add turmeric, coriander, garam masala and salt. Stir. Add 1 tbsp (15 mL) water. Stir. Add tomatoes. Cook on medium heat for 8-10 minutes, until soft and it forms a loose paste.
Add cooked eggplants. Mash everything together with masher and mix leaving no big lumps. Add water. Stir. Simmer on medium low heat for 5-8 minutes.
Turn off heat. Garnish with cilantro. Serve hot with choice of roti, paratha or yellow dal and steamed rice.
Caution: Cooking on open flame can be potentially dangerous. Maintain a safe distance from the flames while roasting the eggplant.
©/® Smucker Foods of Canada Corp. or its affiliates.