Bean Poriyal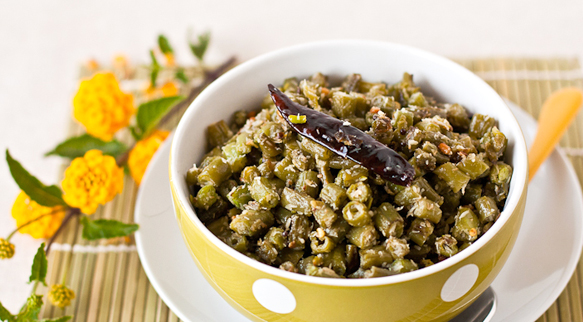 Prep Time: 5 minutes
Cook Time: about 15-20 minutes
Serves: 4
Freezing: excellent
Tiring day and still need to prepare dinner? Try this quick recipe, smile and enjoy a tasty meal with the family.
Ingredients:

1½ tbsp (22 mL) Crisco® Vegetable Oil
1 pinch asafetida
1 tsp (5 mL) black mustard seeds
1½ tsp (7 mL) split urad dal, skinless
2 dry red chilis, whole
1 lb (454 grams) string beans, washed, cut into ½"(1 cm) long pieces
Salt to taste
1/3 cup (75 mL) fresh grated coconut
Method:

Heat oil in a thick bottom pan. Add asafetida and mustard seeds. As they sputter, add urad dal and red chilies. As they sizzle, add beans. Cover and cook on medium heat for 5-8 minutes until beans begin to soften.
Uncover. Continue cooking 10 minutes, stirring occasionally until cooked.
Add coconut. Mix well.
Turn off heat. Serve hot with rice and rasam.
Tip:

Use desiccated shredded coconut for the recipe if fresh is not available. Add coconut with beans and follow same cooking instructions.
©/® Smucker Foods of Canada Corp. or its affiliates.