Kashmiri Dum Aloo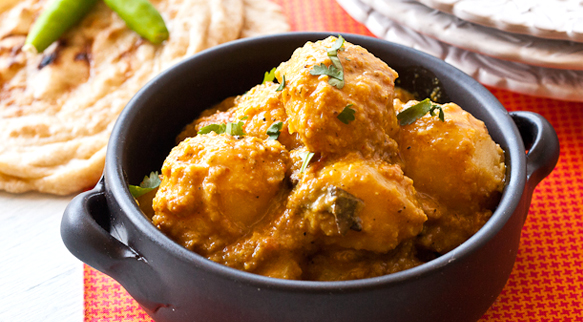 Prep Time: 2 hrs 15 minutes
Cook Time: 35-40 minutes
Serves: 4-6
Freezing: excellent
Average Rating
Be the first to rate this recipe
Traditionally, this dish is slow-cooked while the lid is sealed with dough. Re-create the taste with some quick steps to match today's busy lifestyle.
Ingredients:

1 tbsp (15 mL) poppy seeds
1/3 cup (75 mL) heavy cream
1¼ cups (300 mL) red onions, sliced
1½ tbsp (22 mL) ginger garlic paste
½ cinnamon stick
1 tsp (5 mL) cloves, whole
3 black cardamoms, whole
¼ cup (50 mL) Crisco® Vegetable Oil
½ tsp (2 mL) cumin seeds
½ tsp (2 mL) turmeric
1½ tbsp (22 mL) coriander powder
1½ tsp (7 mL) garam masala
½ tsp (2 mL) cayenne pepper
1 tbsp (15 mL) Kashmiri lal mirch powder
2 tbsp (30 mL) kasuri methi
1½ cups (375 mL) fresh tomato puree
Salt to taste
1 tbsp (15 mL) sugar
1 lb (454 grams) baby potatoes, boiled till fork tender, peeled, deep fried till lightly golden
1½ cups (375 mL) water
¼ cup (50 mL) cilantro, chopped
Method:

Soak poppy seeds in heavy cream for 2 hours. Grind into smooth paste. Set aside.
Grind onions, ginger garlic paste, cinnamon, cloves and black cardamom into a paste. Add a few tablespoons of water to aid smooth grinding.
Heat oil in a thick bottom pan. Add cumin seeds. As they sputter add onion mixture. Cook on medium heat for 8-10 minutes until golden and it turns into a loose paste.
Add turmeric, coriander, garam masala, cayenne pepper, Kashmiri lal mirch and kasuri methi. Stir. Add tomato purée. Cook on medium high heat for 12-15 minutes until it forms a loose paste and excess liquid evaporates.
Add salt and sugar. Stir. Add poppy seed paste. Mix well. Add potatoes. Cover and cook for 2-3 minutes on medium high heat.
Uncover, add water. Simmer for 10 minutes on medium low heat until potatoes absorb sauce and it gets thicker.
Turn off heat. Garnish with cilantro. Serve hot with rice, naan and salad.
Tip:

Try pan frying the potatoes with 1 tbsp (15 mL) oil over medium heat until golden on the surface.
©/® Smucker Foods of Canada Corp. or its affiliates.