Masaledar Matar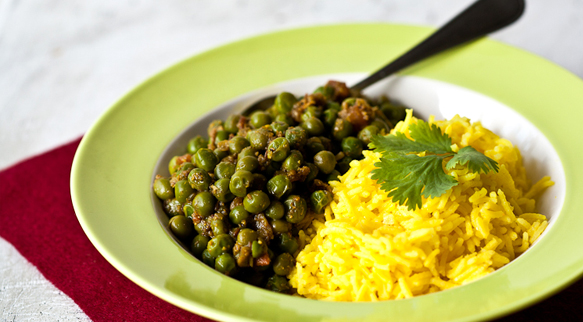 Prep Time: 5 minutes
Cook Time: about 15 -20 minutes
Serves: 6
Freezing: excellent
Average Rating
Be the first to rate this recipe
Sweet green peas, spicy garam masala and a hint of other spices make this dish deliciously divine.
Ingredients:

2 tbsp (30 mL) Crisco® Vegetable Oil
½ tsp (2 mL) cumin seeds
1 tbsp (15 mL) ginger garlic paste
½ cup (125 mL) onions, chopped
½ tsp (2 mL) turmeric
1½ tbsp (22 mL) coriander powder
1 tsp (5 mL) garam masala
½ cup (125 mL) tomatoes, chopped
Salt to taste
2½ cups (2½ cups ) frozen peas, thawed
1 cup (250 mL) water
Method:

Heat oil in a thick bottom pan. Add cumin seeds. As they sputter, add ginger garlic paste. Cook for 30-40 seconds. Add onions. Cook for 3-5 minutes until it begins to brown.
Add turmeric, coriander and garam masala. Stir. Add tomatoes. Cook on medium heat for about 5 minutes or until it turns into a loose paste. Add salt.
Add peas. Stir well. Cover, cook for 5 minutes. Add water. Cover, cook for 8-10 minutes until it comes to a boil. Turn off heat.
Serve with a side of saffron rice.
Tip:

Use fresh peas, when available. Adjust the quantity of water to 2 cups and cook longer until tender.
©/® Smucker Foods of Canada Corp. or its affiliates.