Pindi Chana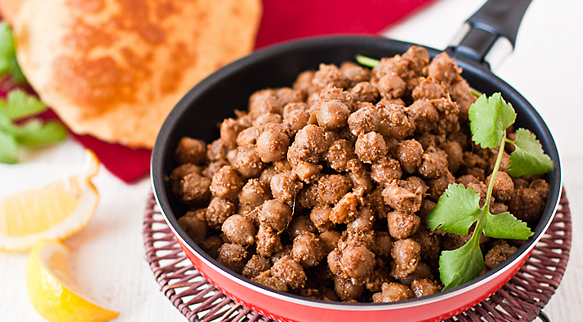 Prep Time: 30 minutes + extra soaking time
Cook Time: 30-35 minutes
Serves: 4
Freezing: excellent
Average Rating
Be the first to rate this recipe
A little effort goes a long way. This lightly spiced and tangy recipe will have everyone in the family asking for more.
Ingredients:

1½ cups (375 mL) dried chickpeas
6¼ cups (1.6 L) water for soaking, divided
Salt to taste
1 black tea bag
2 whole black cardamoms
1 cinnamon stick
1 tbsp (15 mL) coriander seeds
1 tsp (5 mL) cumin seeds
2 tsp (10 mL) anardana seeds
2½ tbsp (22 mL) Crisco® Vegetable Oil
2½ tbsp (22 mL) ginger garlic paste
1 tsp (5 mL) cayenne powder
½ tsp (2 mL) turmeric
1 tsp (5 mL) garam masala
1½ tsp (7 mL) dry mango powder
Method:

Soak chickpeas in 4 cups (1 L) of water for at least 6-8 hours or overnight. Discard water.
Rinse chickpeas. Drain well. Transfer to a pressure cooker. Add 2¼ cups (550 mL) of water, salt, tea bag, black cardamom and cinnamon stick. Pressure cook for 10 minutes. Set aside for 15 minutes until pressure is released. Discard tea bag, black cardamom and cinnamon stick.
Heat frying pan on medium high heat. Add coriander seeds, cumin seeds and anardana. Stir continuously until spices start to change colour. Take pan off heat. Continue stirring for another minute. Transfer to another dish to cool down. Grind spices into powder.
Heat oil in a thick bottom pan. Add ginger garlic paste. Cook for 30 seconds, until fragrant. Add cayenne pepper, turmeric, garam masala and freshly ground dry spice blend. Stir.
Add cooked chickpeas. Mix well. Add dry mango powder. Adjust salt. Mix . Cook off any extra liquid.Turn off heat.
Serve with steaming hot Bhaturas.
Tip:

Investing in a good quality pressure cooker goes a long way in an Indian kitchen. But if you do not own one, fret not! Cook soaked chickpeas in a large amount of water until they are cooked through. Cooking time may vary between a pressure cooker and pot.
©/® Smucker Foods of Canada Corp. or its affiliates.