Sarson Ka Saag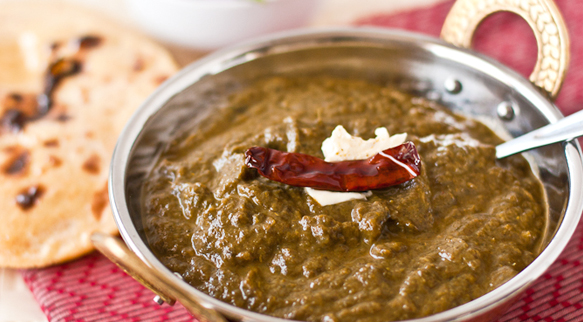 Prep Time: 10 minutes
Cook Time: 45 minutes
Serves: 6
Freezing: excellent
Average Rating
Be the first to rate this recipe
Pair this dish with makke ki roti (corn flatbread) for a taste of classic North Indian-style cuisine.
Ingredients:

1¼ lbs (567 grams) frozen mustard greens, thawed, excess liquid squeezed
3½ oz (100 grams) frozen spinach, thawed, excess liquid squeezed
2 tsp (10 mL) Thai green chilies, chopped
1½ tsp (7 mL) garlic, chopped
½" (1.2 cm) ginger root, chopped
3 cups (750 mL) water, divided
Salt to taste
½ cup (125 mL) corn flour
2 tbsp (30 mL) Crisco® Vegetable Oil
1 pinch asafetida
2 dried red chilies, whole
½ cup (125 mL) red onions, chopped
Method:

Place first five ingredients in a pressure cooker. Add 1½ cups (375 mL) water and salt. Pressure cook for 5 minutes. Turn off heat. Set aside 15 minutes until pressure is released.
Cool. Grind to coarse paste. Transfer to a large cooking pot. Simmer on medium low heat for 3-5 minutes.
Dissolve corn flour in 1½ cups (375 mL) of water. Stir into simmering greens. Cook for 12-15 minutes until saag thickens, stirring every 2-3 minutes.
Heat oil in a separate pan on medium high heat. Add asafetida and red chilies. As they sizzle, add onions. Sauté for 8-10 minutes until golden brown. Stir into saag.
Continue cooking for 5 minutes on medium heat until saag thickens to loose paste.
Turn off heat.
Serve hot with makke ki roti (corn flatbread) or plain roti.
Tip:

Fresh greens can be used for the recipe. Try adding fresh soy greens for added flavour.
If there is no pressure cooker, simmer greens in a large pot until cooked through.
©/® Smucker Foods of Canada Corp. or its affiliates.