Khasta Matar Ki Kachori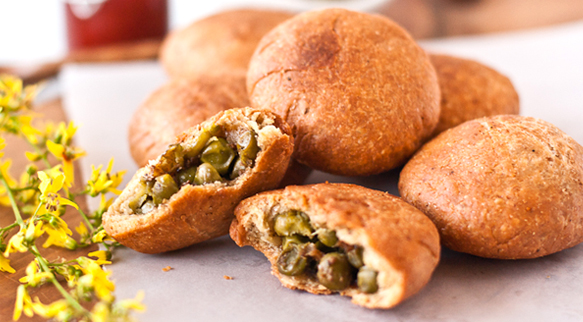 Prep Time: 15 minutes
Cook Time: 15-20 minutes
Makes: 8
Freezing: not recommended
Bring a plateful of piping hot kachoris to the table and see how fast they disappear!
Ingredients:

Filling:
2 tbsp (30 mL) Crisco® Vegetable Oil
1 tsp (5 mL) cumin seeds
½ cup (125 mL) onions, chopped
1 tsp (5 mL) green chilies, chopped
1 tbsp (15 mL) coriander powder
½ tsp (2 mL) garam masala
Salt to taste
1½ cups (375 mL) frozen green peas, thawed
Pastry:
1½ cups (325 mL) Golden Temple® Durum Atta Flour Blend
1 tsp (5 mL) salt
1 tsp (5 mL) ajwain
2 tbsp (30 mL) Crisco® Vegetable Oil + 4 cups (1 L) for deep frying
Method:

Heat oil in a thick bottom pan on medium high heat. Add cumin seeds. As they sputter, add onions. Sauté on medium for 3-5 minutes until translucent.
Add green chilies, coriander powder, garam masala and salt. Stir. Add green peas. Stir. Cover and cook on medium high for 2-3 minutes. Uncover. Reduce liquid if any, cooking for 1 minute, scraping the sides and bottom.
Turn off heat. Let rest until completely cool. Divide into 8 parts.
Combine ingredients for pastry in a large mixing bowl. Rub well between palms to confirm even mixing. Slowly add water. Knead for 5 minutes to form smooth but firm dough. Cover with damp cloth. Set aside for 10 minutes.
Knead dough for 1 minute. Divide into 8 parts.
Lightly oil rolling board and rolling pin. Roll dough ball into 1½ -2" (3.8-5 cm). Place one part filling in the center. Bring the edges together. Pinch in the center to seal. Gently press between palms. Repeat for rest of the dough and filling.
Heat oil on medium low heat to 300˚F (150˚C).
Completely submerge kachoris in oil. Slowly fry them for 15-20 minutes, turning occasionally until golden brown.
Serve hot with spicy chutney.
Tip:

Try different variations like dry urad dal filling, spicy boiled potato filling or sweet mawa filling.
©/® Smucker Foods of Canada Corp. or its affiliates.