Vegetable Poha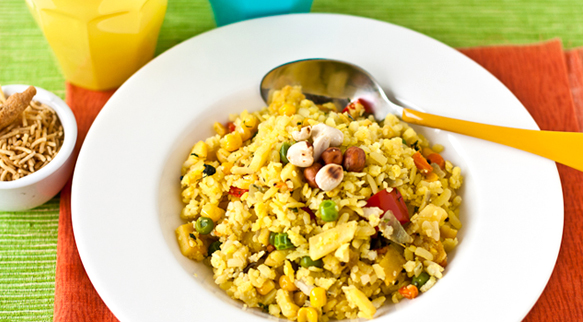 Prep Time: 10 minutes
Cook Time: 15-20 minutes
Makes: 6
Freezing: not recommended
Average Rating
Be the first to rate this recipe
This dish can be a hearty snack, small meal or part of a traditional breakfast. No matter what time of day, it's sure to satisfy the whole family.
Ingredients:

4 cups (1 L) thick poha, flattened rice
3 tbsp (45 mL) Crisco® Vegetable Oil
1 tsp (5 mL) mustard seeds
10-12 curry leaves, chopped
1 cup (250 mL) potatoes, peeled, diced
½ cup (125 mL) onions, chopped
1 tsp (5 mL) Thai green chilies, chopped
½ cup (125 mL) frozen peas, thawed
1 tsp (5 mL) turmeric
Salt to taste
1½ tsp (7 mL) sugar
⅓ cup (75 mL) roasted peanuts, skinless, unsalted
1 tbsp (15 mL) lemon juice
2-3 tbsp (30-45 mL) water, optional
¼ cup (50 mL) cilantro, chopped
Method:

Put poha in a sieve. Wash under running water for 1 minute. Set aside to drain.
Heat oil in a thick bottom pan on medium high heat. Add mustard seeds and curry leaves. As they sputter, add potatoes. Stir. Cover. Cook for 5 minutes.
Add onions. Stir. Cook for 3-5 minutes on medium heat until translucent.
Add chilies. Stir. Add peas. Stir. Cover and cook on medium heat for 2-3 minutes.
Add turmeric, salt and sugar. Stir. Add peanuts. Stir. Turn heat to low.
Fluff poha with a fork. Add to the pan. Mix well.
Add lemon juice. Sprinkle water over poha if it seems dry. Mix well.
Turn off heat. Garnish with cilantro. Serve hot with spicy namkeen and hot chai.
Tip:

There are mainly two varieties of poha available in market—thick and thin. Thin poha softens fast. Do not wash them thoroughly with water. Instead sprinkle with water just enough to soften.