Wheat Flour Dosa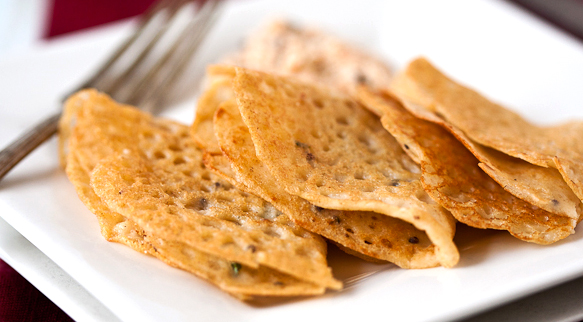 Prep Time: 15 minutes
Cook Time: 1 hr 15 minutes
Makes: 16-18
Freezing: not recommended
Average Rating
Be the first to rate this recipe
This South Indian specialty is a soft yet crispy crêpe. Traditionally served at breakfast, it pairs well with spicy red coconut chutney.
Ingredients:

1½ cups (375 mL) Golden Temple® No. 1 Fine Durum Atta Flour
1 tsp (5 mL) salt
1 tsp (5 mL) cayenne pepper
2 cups (500 mL) water
2 tbsp (30 mL) Crisco® Vegetable Oil + extra for pan frying
½ tsp (2 mL) mustard seeds
8-10 curry leaves, chopped
2 dried red chilies, whole
1 tsp (5 mL) urad dal, skinned
2 tbsp (30 mL) chopped red onion
Method:

Mix flour, salt and cayenne pepper in a large mixing bowl. Slowly add water while whisking the mixture to prevent any lump formation. Set batter aside.
Heat oil in a tadka pan (tempering pan). Add mustard seeds, curry leaves and dried red chilies. As they sputter add urad dal. Cook for 30 seconds or until urad dal turns golden.
Add chopped onion. Cook until translucent. Transfer tadka to bowl with batter. Mix well.
Heat crêpe pan or a skillet on medium heat. Sprinkle a few drops of water. If it sizzles away immediately, pan is ready to use.
Grease pan with oil. Pour about ⅓ cup (75 mL) of batter on pan. Spread batter with the back of ladle. Cook until edges rise. Spray oil on the exposed surface of dosa then carefully flip it with a flat spatula. Cooked side should have several pores and be golden brown.
Cook other side the same way. Use the back of a flat spatula to apply gentle pressure on dosa while cooking. Occasionally rotate in slow circular motion to aid even cooking.
Serve hot with garlic chili chutney.
Tip:

Cooking a crisp dosa calls for an optimal temperature which is achieved after cooking the first 2-3. So the first couple of dosas are bound to be imperfect. Just don't lose heart!