Khandvi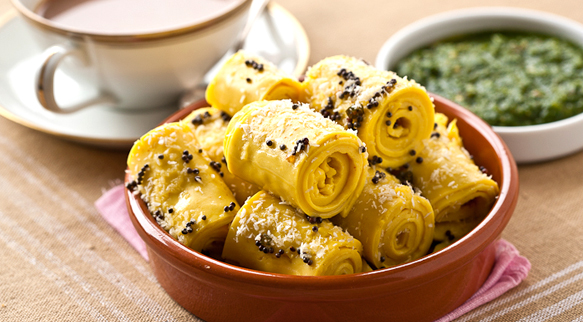 Prep Time: 5 minutes
Cook Time: 15 minutes
Makes: 4
Freezing: not recommended
Average Rating
Be the first to rate this recipe
Besan or chickpea flour is transformed into an amazing snack in just a few minutes!
Ingredients:

1 cup (250 mL) chickpea flour
1 pinch asafetida
1½ tsp (7 mL) salt
1 cup (250 mL) plain yogurt
1¼ cups (300 mL) water
1 tbsp (15 mL) Crisco® Vegetable Oil
1 tsp (5 mL) mustard seeds
1 tsp (5 mL) green chilies, chopped
1 tbsp (15 mL) fresh grated coconut
1 tbsp (15 mL) cilantro, chopped
Method:

Whisk together first five ingredients in a sauce pan. Make sure no lumps are formed.
Slowly cook the batter on medium-high for 8-10 minutes, whisking continuously. Cook until batter thickens to a paste and leaves sides of the pan.
Turn off heat. Divide into two parts.
Use the back of a spatula to immediately spread paste on back of 9x11" (23x28 cm) baking sheets in thin uniform layer. Let cool for 5-8 minutes.
Cut khandvi lengthwise into 4 strips about 2" (5.1 cm) wide. Lift one end. Roll up individually. Place on a serving dish.
Heat oil in a tadka/tempering pan on medium high heat. Add mustard seeds. As they sputter, add chilies.
Turn off heat. Pour evenly over khandvi. Garnish with grated coconut and cilantro. Serve as an appetizer.
Tip:

To check for doneness, spread a spoon of chickpea paste on baking sheet. If it dries firm then it's done. Otherwise cook for a couple of minutes more.
©/® Smucker Foods of Canada Corp. or its affiliates.