Kurkure Chane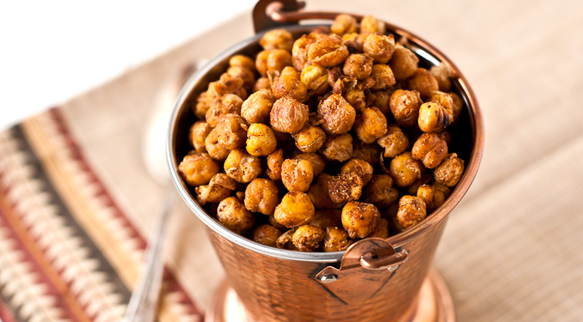 Prep Time: 5 minutes
Cook Time: 40 minutes
Makes: 1½ cups (375 mL)
Freezing: not recommended
This lip-smacking, crunchy snack is truly delicious!
Ingredients:

20 oz can (566 grams) chickpeas
1 tbsp (15 mL) Crisco® Vegetable Oil
½ tsp (2 mL) garlic powder
1 tsp (5 mL) chat masala
½ tsp (2 mL) salt
½ tsp (2 mL) cayenne pepper
Method:

Preheat oven to 400°F (205°C).
Rinse and drain chickpeas thoroughly. Pat dry. Remove any loose skin.
Transfer to baking sheet. Add oil. Mix. Spread in single layer. Bake for 20 minutes. Meanwhile, combine seasonings and set aside.
Remove baking sheet from oven and toss with seasoning. Return to the oven and cook for 10 minutes.
Turn oven off and leave chickpeas in the oven for another 10 minutes. Cool completely.
Tip:

Try different spices like garam masala or black pepper for variety. Or toss with your choice of salad to add an extra crunch.