Mathri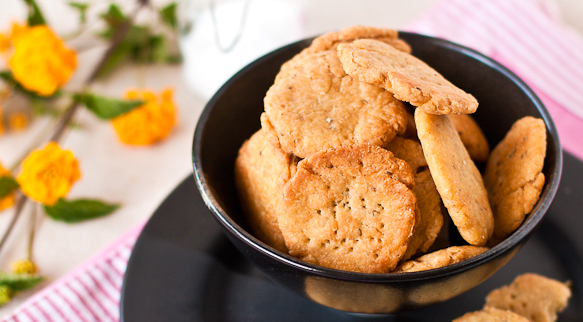 Prep Time: 15 minutes
Cook Time: 5-8 minutes
Makes: 15
Freezing: not recommended
Average Rating
Be the first to rate this recipe
Pair these crispy treats with a hot cup of masala chai, curl on the couch and unwind!
Ingredients:

1 cup (250 mL) Golden Temple® No. 1 Fine Durum Atta Flour
2 tbsp (30 mL) semolina (sooji)
1 tsp (5 mL) salt
½ tsp (2 mL) ajwain (caraway seeds)
2 tbsp (30 mL) Crisco® Vegetable Oil + 3 cups (750 mL) for deep frying
⅓ cup (75 mL) water
Method:

Mix dry ingredients in a large mixing bowl. Add oil. Mix by rubbing small portions between palms until oil is mixed well. Slowly add water. Use hands to bring everything together.
Knead 8-10 minutes into stiff dough. Divide into 15 parts.
Use hands to roll into balls. Gently press between palms to form flat circles. Poke gently with a fork.
Heat oil in a wok or fryer on medium heat, about 300°F (149°C). Deep fry until golden, about 5 minutes.
Store in airtight containers until served. Serve with lemon or mango pickle.
Tip:

Make sure oil is not smoky hot for deep frying. Cook on medium low heat for crisp mathris.