Onion Bhaji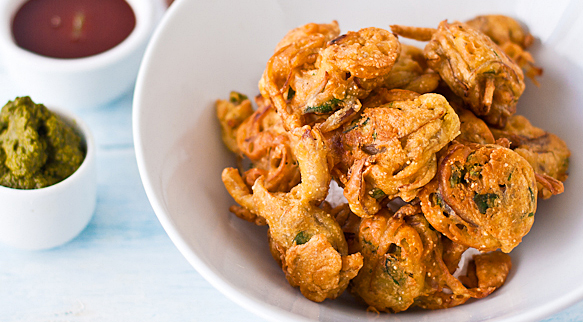 Prep Time: 15-20 minutes
Cook Time: 30 minutes
Makes: 20-22
Freezing: not recommended
Average Rating
Be the first to rate this recipe
Imagine this: cloudy day, rain drops streaming down the window, hot onion bhajis and a cup of masala chai. Absolute bliss!
Ingredients:

1 cup (250 mL) chickpea flour
1 tbsp (15 mL) Golden Temple® Sooji (semolina)
½ tsp (2 mL) Thai green chilies, chopped
⅛ tsp (0.5 mL) baking soda (optional)
Salt to taste
¼ cup (50 mL) water
2 cups (500 mL) red onions, thinly sliced
3 cups (750 mL) Crisco® Vegetable Oil for deep frying
Method:

Mix first four ingredients in a mixing bowl. Slowly add water and continue mixing. Add sliced onions. Mix well so it is thick enough to hold shape.
Heat oil in a deep fryer or wok at 350°F (175°C). Wet hands and carefully drop 5-6 small portions of batter, about 1 tbsp (15 mL) each, into hot oil.
Stir and fry bhajis until golden brown on both sides, about 1-2 minutes.
Remove into dish lined with paper towel to drain excess oil.
Serve hot with cilantro or chili garlic chutney.
Tip:

White onion can also be used. But it has more moisture, so adjust quantity of water accordingly.
To check temperature of oil, drop a small piece of onion into oil. If it sizzles, oil is ready.